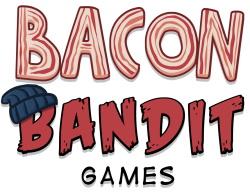 At Bacon Bandit Games we believe in making fun, accessible games for people of all ages. We like to make people smile. Our favorite thing to hear from players is "just one more game!".
We're two Canadian guys that were raised on bacon and maple syrup. We also love making games.
The Team
Mark is responsible for all of the nerdy, techie, awesome stuff that makes our games possible! He survives on delicious food and drinks (scotch being his drink of choice!), loves his wife, and enjoys horror movies, indie games, all things sci-fi, D&D, and comics when he can afford to buy them! His favorite Ninja Turtle is Donatello.

Jake brings everything to life. Without him, programmer art would run rampant, abusing the eyeballs of the masses. He spends his time dreaming up cool new characters, monsters, and other awesomeness!